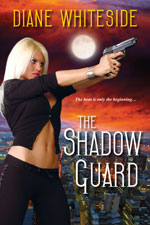 The agency is happy to announce today's release of the latest novel by author Diane Whiteside, paranormal romance The Shadow Guard:
THE SHADOW GUARD. They are the darkest of Black Ops. A force operating outside the sphere of the CIA or FBI. Taking their mandate not from the U.S. government, but from magic. And sex.
SAHIR. Astrid Carlson is one of them, a mage on a mission. With her wispy blond hair and those long, long legs, she can make a man forget himself. Until it's way too late.
KUBRI. Jake Hammond is the only thing she needs, the human conductor who can focus all her strength, bringing her to a peak of power, or shattering her completely.Yeah, she's got a hundred or so years on him, but who's counting when there's an unstoppable assassin to take down – and unstoppable chemistry about to combust…
View the trailer for this book at dianewhiteside.com and pick up a copy of The Shadow Guard today!